Crime scene photography commonly referred to as forensic photography involves taking photos and recording films of crime scenes, normally after the occurrence of such events. Crime scene photographers work with various law enforcement with an intention to capture and preserve evidence in a criminal case.
History of crime scene photography
The intense scrutiny and methodological observations used nowadays by forensics to document and interpret criminal investigations were developed as early as the 1900s. Since cameras were invented in the early 19th century, photography and its applications have taken shape with many courtrooms across the world using crime scene photos to render justice. With the advancement in technology, photography has changed how evidence is utilized by experts to give a clue on what transpired before, during and after a criminal act.
What does crime scene photographers do?
Forensic photography has been the center of a debate on how far they should be used to make serious decisions especially when it comes to criminal proceedings. While crime scene photos don't give an exact picture of what happened, it helps in clearing out some doubts on the prosecution counts. It also enlightens relevant authorities on what to look for and what to expect as far as the criminal act is a concern.
Some of the duties performed by crime scene photographers include;
Setting up cameras for the shoot and selecting proper film types, exposure, proper backgrounds and angles for a given crime scene.
Processing, developing, and printing of films and photos. They make enlargements, special portraits, color corrections and digital enhancements as requested by the prosecution, detectives and other relevant bodies.
They establish a chain of custody for a set of photographic evidence. They prepare laboratory notes and other briefings to help in investigations- as supplements to the photographic evidence.
They monitor and maintains photographic supplies and resources
They Coordinate, assemble and edit photographs for special related projects pertaining to criminal investigations.
They may testify in a court of law regarding the photos they took in a crime scene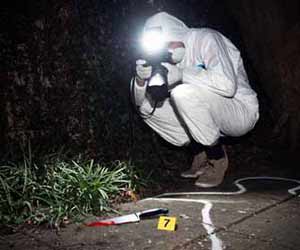 The working environment of a crime scene photographer
A normal working day for a crime scene photographer involves field jobs and office hours of assembling data and writing reports. According to a 2015 CSI (Crime scene investigation) Video,
It's clear that a career in forensic photography takes in more than just the photography skills. In the Video, a well-seasoned CSI and photography officer explain the requirements needed to be a forensic photographer, the working conditions and what is expected as far as this career is a concern.
Apart from advanced photography prowess, science-based knowledge proves to be quite relevant especially when dealing with complex cases where reasoning and deductive logic comes very handy. Before one qualifies to handle serious criminal cases as a crime scene photography, he/she must demonstrate enough mastery in writing and editing crime-related thesis with research backgrounds, for example: a criminology essay, crime scene, and investigative reports.
Forensic photographers can be employed directly upon passing the job interview. Degree graduates in forensic science with a background in photography are normally employed after which they are given further training. Those with a diploma in the same fields are also eligible for the job provided they pass all the interviews and proves to be fit for the task ahead of them. In certain States, law enforcers in active duty, reserve, and even veterans can be absorbed and trained to aid in criminal investigations as crime scene photographers.